It seems like nowadays everything has an app, from monitoring our homes to virtual fitness coaches. So, why would there not be the best water tracker app? Surprisingly, there are more than we would like to count.
However, we did, and we came up with the best apps to help you narrow down your search. These have many different features but most importantly, they help you with your water intake. These make sure to remind you, and measure your intake based on a personal profile.
Water Tracker Apps – 10 Full Reviews
Like developing any other habit, increasing your water intake can be challenging. Fortunately, there is an abundance of apps that will help you along the way.
10. WaterMinder
WaterMinder is a visually pleasing app that allows you to track your water intake. What sets this particular tracker apart from others is that it even tracks the water content in other things you drink too.
If you like coffee, tea, juice, or other drinks, the app will help you track the water in these beverages. It also offers a few different views so you can choose what makes the most sense to help you achieve your hydration goals. This is one of the best water tracker apps available, being in the top 10 in the Apple App Store.
Pros
Two different home screens, featuring either a person or a circle graph
Easy to add water with a very simple interface
Offers history log and graphs
Gamifies hydration, offering achievement badges
Has an Apple Watch companion app to help with on-the-go logging and reminders
Also has Siri shortcuts
Cons
Subscription-only use, there is no free trial
Does not take into account the hydration impact of different beverages
Challenges with proper notification timing
---
9. Drink Water + Daily Reminder by AppRover
Drink Water is the most basic as it comes to the best tracker apps. It automatically calculates how much water you should consume based on your body weight. The app then tracks your water intake.
It does not account for any other fluid intake or their water content, just straight water. The interface is simple and easy to add more water, even on the go. It does integrate with other apps like Apple Health and offers a widget for easier access, but both are for premium subscribers only. One of the better water tracking apps available, it ranks in the top 100 in the Apple App store for Health & Wellness apps.
Pros
Exceptionally simple interface
Automatically calculates daily water goal
Customizable daily intake goal
Cons
Statistics available only to premium subscribers
Health app integration only available to premium subscribers
Does not account for another fluid intake
No badges or rewards for hitting your goals
No companion smartwatch apps
---
8. Daily Water Tracker Reminder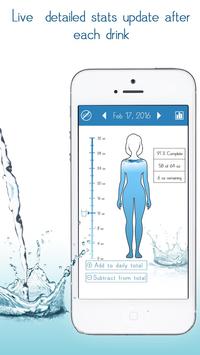 If you are looking for a simple and easy-to-understand tracker, then the Daily Water Tracker Reminder app is for you. It comes complete with a person who "fills" as you record more water throughout the day. It also quickly shows you how close you are to meeting your daily goal.
For those who like a little fun, the app does have a celebration function when you hit your goal. This is definitely one of the best water tracking apps, listed as #106 in the Apple App Store for medical apps.
Pros
Tracks ounces over glasses
Visually simple
Has a history graph
Reminders to drink more water
Has a celebration function as you hit your goal
Cons
Difficult to input how many ounces you use on the fly.
Requires subscription
Has ads, including pop up ads during the trial
Weight setting only goes to 264 lbs
Cannot set a goal greater than 128oz
Does not offer a companion app for smartwatches
---
7. Aqualert
Aqualert is a very simple interface with one goal: help you remember to drink more and track your progress. It does have some features available only as a premium user, such as month-over-month tracking. However, It's completely free and simple to use.
Pros
Allows you to customize your hydration goals
History tracking lets you see how you are doing each day.
Simple to choose your serving size
Easily add consumption
Cons
A lot of pop-up video ads
Is not intuitive how to change screens when you click a button from the home screen.
Does not accurately record water intake, starts removing 0.1oz at times.
No smartwatch companion app
---
6. Plant Nanny 2
If you enjoy cute app games, then Plant Nanny 2 may be a great option for you. The idea is that you are tending to a plant, helping it grow. As you drink water, you log in and help your plant grow.
Neglect it and it will die, but be careful not to give it too much water too quickly. As you move through the game, you get access to new plants and flower pots. With over 1 million downloads Plant Nanny is one of the best water tracker apps available.
Pros
Tracks in both ounces and milliliters.
Recommended hydration goals based on weight and lifestyle.
Customizable goals to meet your specific needs
Historical charts for your review
Apple Watch companion app
Cons
Difficult to add water consumption
The app is focused more on the game than simple water tracking
---
5. Hydro Coach
| | |
| --- | --- |
| Availability: | Android |
| Cost: | Free with a paid option to remove ads. |
| Downloads: | Over 2 million |
| Rating: | 4.6 on Android |
Hydro Coach has been rated one of the best water tracker apps across the review board for over two years now. This is a straightforward hydration tracking and reminder app. It gives you the ability to customize your intake goals or use a built-in calculator to determine a good goal.
Moreover, it has a number of drink options to choose from as well as serving size customization. The proof of this app's success is in the over 2 million downloads from Android alone.
Pros
Customizable hydration goals along with a goal calculator
Hydration reminders
Visually appealing history graphs
Hydration statistics
Achievement badges
Ability to challenge friends
Cons
Frequent pop-up ads on the free version
No iOS version as of yet
The free version is lacking in features
---
4. Water Reminder Daily Tracker by VGFit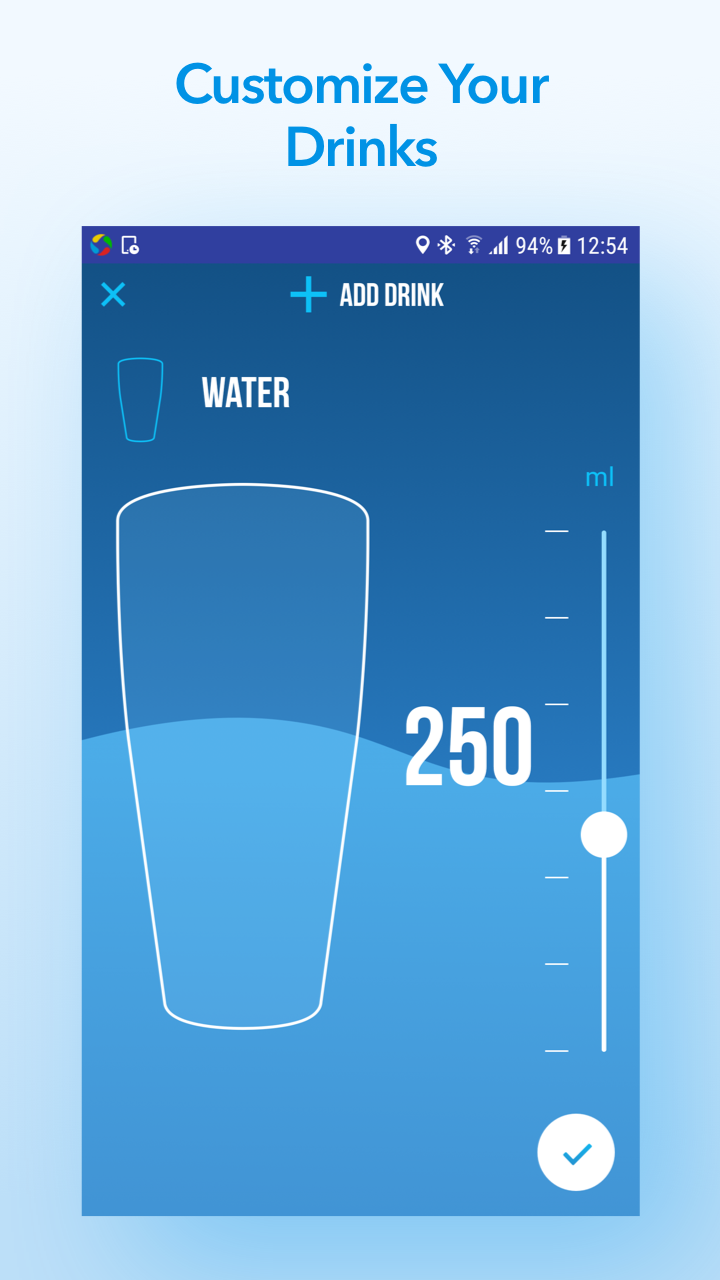 VGFit has developed a number of health-related apps, including fitness and sleep. Water Reminder is a great addition to their portfolio, providing users assistance in developing the habit of increasing hydration.
It does calculate hydration based on what you consume, adding all components of your liquid intake into the tracking. The app also weights what you consume so that you get a good sense of what you still need. Additionally, the basic graphs help you visualize how you are doing day by day.
Pros
Considers nutrition as part of the hydration tracking
Offers reminders to take something to drink
Offers some basic badges as rewards
Quick add app widget
Has Apple Watch companion app
Cons
Free version supported by pop-up ads
Most drink options are available to premium users only
---
3. HabitMinder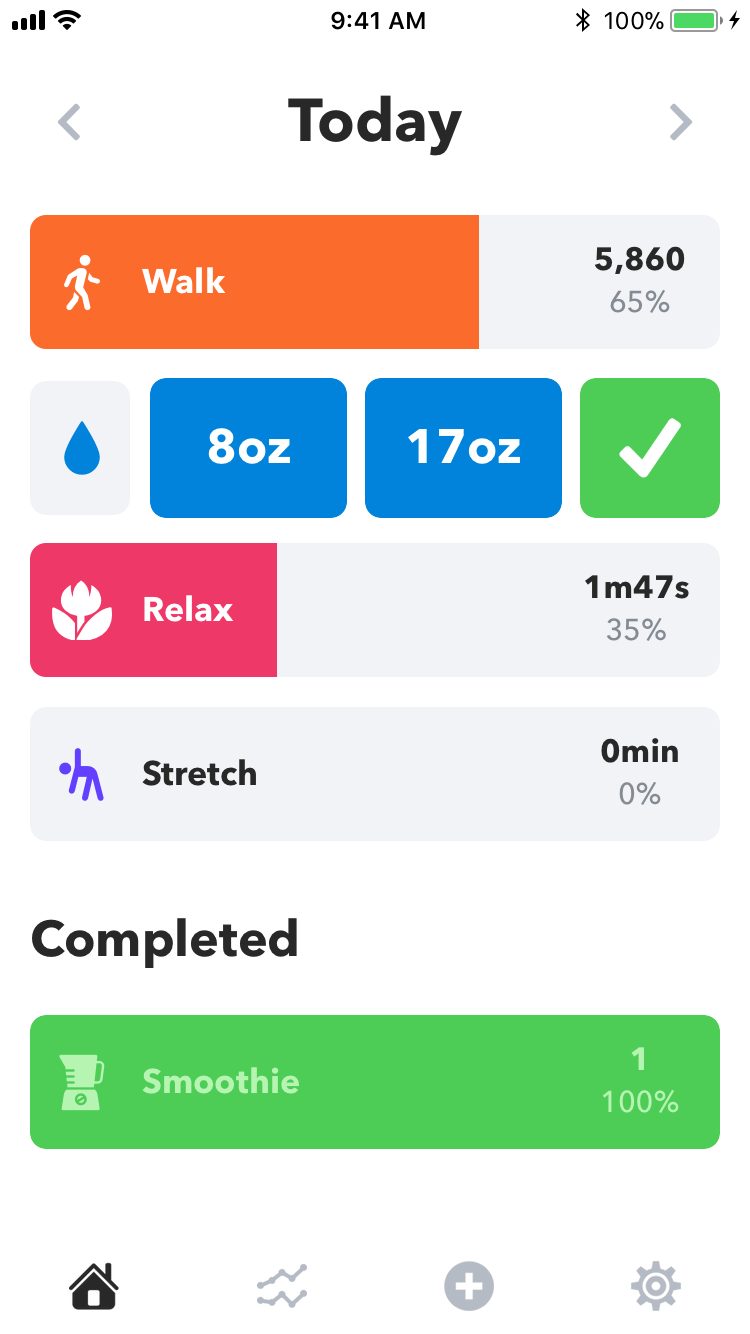 HabitMinder is more than a simple best water tracker app, it is a full-on habit-forming app, with hydration as part of the core. This app also helps form other helpful habits like breathing, walking, and more than 50 predefined habits.
You can choose just one, or work on several. The app will track your progress and also offers reporting on how you are doing. It also has a companion Apple Watch app for easily adding to your habits with your reminder notices.
Pros
Full habit tracking and reminder app, not only limited to water
The simple user interface, easy to add water at varying amounts
Customizable daily hydration goals
Apple Watch companion app
Cons
No nutritional consideration for hydration
Very basic tracking
Three habit maximum on free version
---
2. Waterlogged
Waterlogged is a basic water tracking app with a very simple and smooth interface. It allows customization of your hydration goals, and easily changes your intake volume.
It offers other liquids to track for overall liquid intake, but it does not count toward water within those liquids when calculating hydration intake.
Pros
Very easy to add water intake
A simple graphic shows you how close you are to meeting your goal
Syncs with other health apps
Cons
Tracks other fluids, but not how they impact hydration
Reminders only work in the premium version
App integration available in premium version only
No companion smartwatch apps
---
1. My Water Balance
| | |
| --- | --- |
| Availability: | Android |
| Cost: | Free to use, the premium version to unlock all features |
| Downloads: | More than 100,000 |
| Rating: | 4.2 on Android |
3
My Water Balance is simple yet elegant. It offers a lot of customization for daily intake goals as well as intake volume amounts. This makes it very easy for the app to meet your specific needs.
It also has many built-in features so you do not have to do a lot of leg work. This includes automatic goal calculation, as well as calculating how different beverages contribute to your daily goals.
Pros
Customizable daily intake goals
Built-in hydration goal calculator
Tracks other liquids as part of daily hydration
Integrates with other health apps
Fun yet simple interactive interface
Badges and motivational rewards
Offers companion Apple Watch app
Cons
Must have the premium version to unlock all liquids
Overall and monthly reports are for premium users only
---
Wrap Up
All of these apps easily fall under the best water tracker app category. Each of them helps achieve the goal of improving hydration, helping you track your progress, and maintaining the motivation to hit your goals.
Keeping hydrated is extremely important and keeping up with your intake is a great way to keep up with your health.